Accidents and emergencies can occur at any time and anywhere, and it's the first responders to an incident that can mean the difference between life and death in some cases, as well as minimising damage to property in the case of a fire or flood.
There are many different facets to an emergency response team (sometimes called an incident response team), including paramedics, fire rescue, SES workers and more. There are also emergency response teams dedicated to serving and protecting industrial sites around Australia, which cover confined space and vertical height rescue.
What is an Emergency Response Team?
An emergency response team on an industrial or construction site is there, prepped, and ready to spring into action should an emergency arise. One of the greatest dangers on any industrial site is the threat of fire, but other hazards also exist, such as gas leaks in confined spaces, toxic materials, flooding, accidents and incidents happening at height.
If the team is located on-site, the first response service can react immediately, saving valuable time and potentially lives in the process. Secondary to the safety of everyone on-site, but also very important, is the protection of company property, equipment, materials and buildings. The rapid deployment of a skilled and qualified emergency response team will minimise any impact an incident may cause on all levels.
While everyone who works on the industrial site should be trained in workplace health and safety procedures, along with fire safety training, most individuals are not trained as certified first responders. That's why it's imperative to have a fully certified emergency response team on standby, a team that is highly trained in every procedure required to handle an emergency.
The Different Types of Emergency Response Teams
There are a number of different incidents that can occur on an industrial site which is why first-response teams are trained in a wide range of emergencies. These are some of the most common types of emergency response teams and the procedures they follow in the case of an incident:
Fire
Fires can spread very quickly, so a rapid response to minimise the impact is essential. Having a team of first responders trained in fire safety specifically will save lives and help minimise the damage caused by a blaze. This first response service can help with evacuations, attend to the injured, rescue anyone who is trapped by the blaze, coordinate with other emergency services and assist in getting the situation under control as quickly as possible.
Flood
Flooding on an industrial site could occur from a natural weather event or possibly from an on-site incident that involves a large volume of water, such as a dam, reservoir or huge water tanks. A flood emergency response team will leap into action, saving lives, assisting people to safety, helping with evacuations, sandbagging and also doing as much as possible to minimise the damage to property caused by the flood. This includes stemming the flow of any toxic materials or other pollutants that may become mixed in with flood waters
Toxic hazard
Also known as a chemical emergency, if there is a leak or spillage of toxic materials, your site needs a team trained in toxic hazards to deal with the incident immediately and safely. Usually, the first step is to ensure everyone evacuates the area straight away, and as part of the first response service, the team will ensure everyone gets to a safe area. The first response service will be geared up with protective clothing and the right equipment to get the affected area under control and clean up the toxic hazard.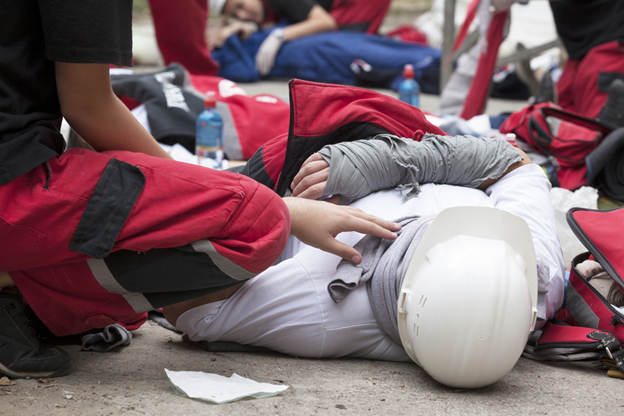 Accidents
As accidents do unfortunately sometimes happen in the workplace, you need a team of emergency responders who know just what to do and will act immediately when an accident occurs. This includes administering first aid, resuscitation if necessary, securing the accident site and keeping any injured persons stable until emergency services arrive.
Confined spaces
An emergency response team for confined spaces takes on a number of roles. First, they can train others on how to safely work in confined spaces. Secondly, the team can check that a confined space is safe to work in, such as checking air quality and monitoring hazardous gas levels. Thirdly, this team is highly trained in responding to incidents in confined spaces, such as toxic gas leaks, cave-ins, or workers becoming trapped.
Heights
Falling from heights is one of the most common types of incidents that occur at work sites. Emergency responders in this sector can formulate emergency response plans should an incident happen at height, as well as ensure the safety of people working at heights. Should an incident or accident occur, the team will deploy immediately to rescue anyone in peril, attend to injuries and get the situation under control as soon as possible.
Benefits of First Response Services
There are many benefits of having a certified, qualified and highly experienced emergency response team on standby. Let's very briefly run through some of the main advantages.
Prevention
Preventing an incident from occurring in the first place is always preferable. Having a certified team on hand to monitor the workplace and ensure safety measures are in place will contribute significantly to minimising risks and reducing the chance of incidents occurring.
Saving lives
While prevention is of the utmost importance, so is saving lives should an incident or emergency eventuate. Your incident response team will act quickly, potentially saving lives through speed, skill, knowledge and experience.
Minimising damage
In the case of a fire or flood, emergency responders can help minimise any damage caused by an incident or disaster through quick thinking and taking appropriate action. While certainly not as valuable as people's lives, it's also important to protect buildings, equipment and materials.
Evacuations
Emergency response services can assist with evacuating everyone to a safe zone no matter what the emergency is. This is vital in the event of a flood, fire, gas leak, or cave-in because a rapid evacuation will invariably save lives.
Peace of mind
Hopefully, an accident or incident never occurs. That's the best-case scenario. However, knowing that you have an experienced team at the ready should something go wrong, will give everyone peace of mind.
Coordinate with emergency services
While the incident response team will likely be the first on hand to deal with an emergency, other teams will be arriving on-site, such as ambulances, the fire brigade and the police. The first response team will coordinate with other emergency services to quickly bring a crisis situation under control.
Builds trust
When your workers, customers and the community know your company places such a high emphasis on safety, this builds trust in your company. Having a first response team on standby should an incident occur demonstrates that you care, are aware of the risks and have put everyone's safety as a priority. It's best if you have an emergency team on-site, ready to respond the moment an incident arises to reduce the impact on the surrounding community.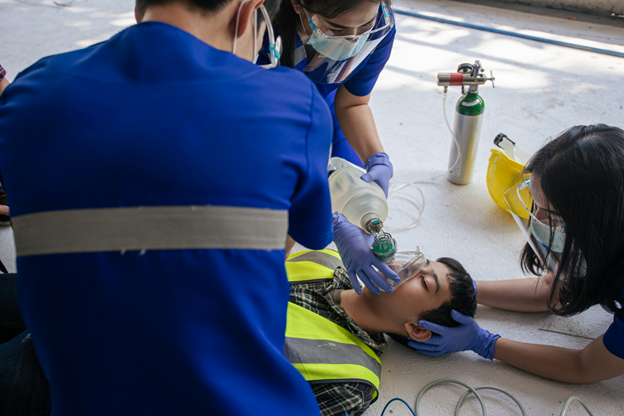 Organise First Responders with SSTC
Organise your emergency response team with SSTC. With more than 25 years of combined industry experience, we can equip your industrial site with a team of first responders who are highly trained, skilled and fully certified. We can also put together an emergency response plan, along with training for all of your employees on what to do should an emergency arise.
For more information on our range of services and to learn how we can help you, get in touch with SSTC today.