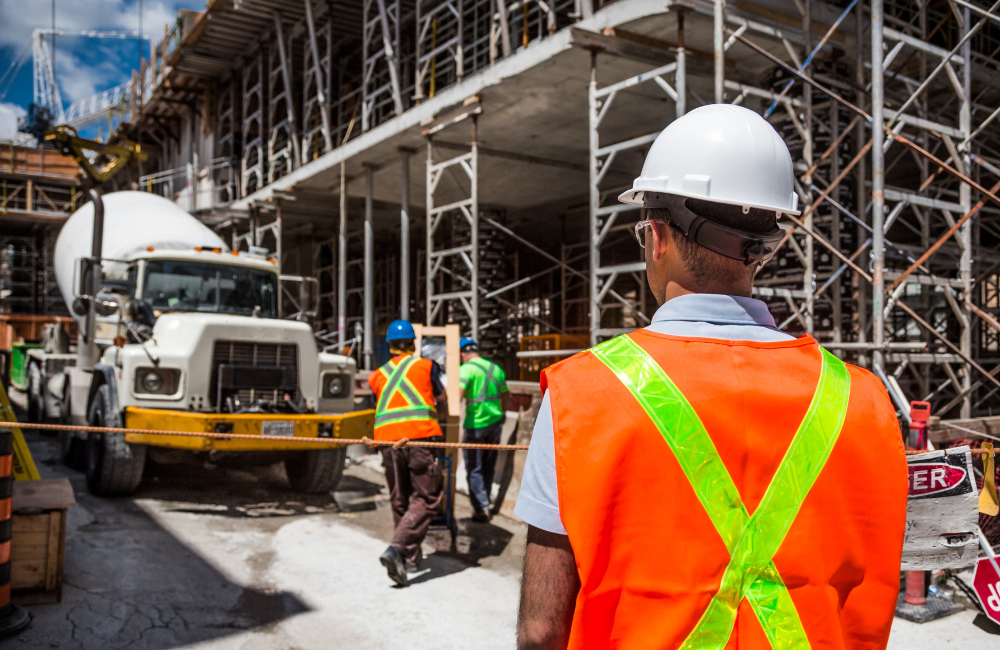 When a construction project affects the regular flow of traffic, it's important to ensure the safety of everyone in the area, including employees, motorists and pedestrians.
Traffic control plays a crucial role in the construction industry: guiding congestion away from work zones, complying with workplace health and safety regulations, minimising disruptions to people's routines and preventing accidents. If your project takes place on or adjacent to a road, construction traffic control is essential.
According to Safe Work Australia, there are some key issues to consider when managing traffic near a construction worksite. Keeping vehicles and pedestrians apart onsite and when entering and exiting the workspace helps to reduce the risks. So does using the kind of signage that indicates there are changed traffic conditions and workers ahead and implementing a traffic control plan.
Traffic control is regularly used in circumstances of all kinds, from major events to emergency responses. Effective construction traffic control prevents the specific hazards that can lie in waiting for pedestrians and drivers around construction sites, especially falling debris and equipment.
Considering how important a traffic control plan is, it's best left in the hands of an experienced professional with the knowledge to anticipate and plan for anything.
So what goes into construction traffic control, and how is it planned and carried out? As experienced providers of traffic control services in Sydney, SSTC can shine some light on this important service and provide your own business with solutions.
What Do Constructional Traffic Controllers Do?
Construction traffic personnel protect the safety of both workers and the general public around a construction site, including pedestrians, motorists and cyclists. These traffic controllers have a number of responsibilities. Fundamentally, they control the traffic and enforce the changed conditions. While the speed limits and road instructions they institute may be temporary, they're just as enforceable as permanent rules. In fact, you can face heavy penalties for disobeying them.
The day-to-day duties of a construction traffic controller include:
Traffic management
Construction traffic controllers use hand signals, signs etc., to direct traffic flow through and around work sites and prevent congestion and accidents.
Setting up and removing traffic control devices
Construction traffic controllers set up, manage and put away traffic control equipment such as traffic cones, barricades and speed signs.
Monitoring and communications
Traffic control personnel keep a watchful eye on the movements of vehicles and people near the construction site and communicate with others on the team.
Instructions
If you find yourself behind the wheel or on foot near a construction site, a traffic controller may relay instructions and directions to you to get you past without a hitch.
Enforcing speed limits
A major part of effective construction traffic control is implementing safe speed limits; enforcing them is one of a construction traffic controller's duties.
Follows instructions
Road traffic controllers follow instructions from those further up in the chain, such as managers, foremen or officials.
Those who work in traffic control services in Sydney should be experienced, perceptive and quick-thinking enough to handle large-scale projects in a city this size. They need to be observant enough to spot potential pitfalls before they occur and be cool enough under pressure to respond to emergency situations if necessary.
Why and When Are Construction Traffic Controllers Needed?
Here are some examples of the types of situations that require construction traffic control:
Construction site safety
Traffic control is in itself a hefty responsibility, but the risks of a construction site add a new dimension. There's heavy machinery, often large trucks loading and unloading, and plenty of vehicles with additional moving parts that may swing. Safety is paramount, and traffic control personnel help to maintain it.
High-traffic areas
Construction sites require monitoring even in quiet residential areas, but construction traffic control is obviously vital in areas of high traffic. In a city like Sydney, with a very high volume of cars and pedestrians passing through your area of the city at any given time, you can't afford to settle for less than exceptional construction traffic control services.
Intersection and roadway closures
When construction activities require the closure of an intersection or roadway, construction traffic controllers need to be on hand to redirect cars from their usual route.
Use of heavy equipment
Construction workers often use heavy machinery in close proximity to roads, and traffic controllers are on hand to ensure motorists and equipment operators don't cross paths.
Construction traffic control should be at the forefront of those managing a construction site to ensure the safety of not only their workers but also the surrounding pedestrians and vehicles. If you have a project in the pipeline that requires road closures, a well-designed traffic control plan is essential.
What Is a Construction Traffic Control Plan?
A good traffic control plan takes all the relevant details into account: the type of traffic you'll have to deal with at a construction site, which routes travellers will take and all potential hazards and possible problems, no matter how minor. This plan needs to consider these main areas: safety, accessibility, ensuring efficient flow of traffic, and compliance with legislation.
A traffic control plan is a WHS requirement and should be displayed on your worksite. It also has to adhere to the rules of the traffic authority in your state or territory. Generally, a traffic control plan contains a diagram with instructions. This plan lays out the conditions of the road, including speed limits, roundabouts, traffic lights, signage, and all the other factors influencing the safety of traffic.
This plan factors in traffic circumstances and hazards like traffic volume and blind spots, assesses all the plausible risks and endorses construction traffic control recommendations, including safety measures and optimal vehicle routes etc. A comprehensive plan includes location information, work scope, team members required, traffic control strategies and the layout of signage.
Construction traffic control is a challenging business anywhere. But when the Sydney traffic keeps coming thick and fast in the course of a busy day, you can't afford to leave your strategy in an amateur's hands. SSTC has the skills to take charge of your traffic control services in Sydney.
Effective Construction Traffic Control with SSTC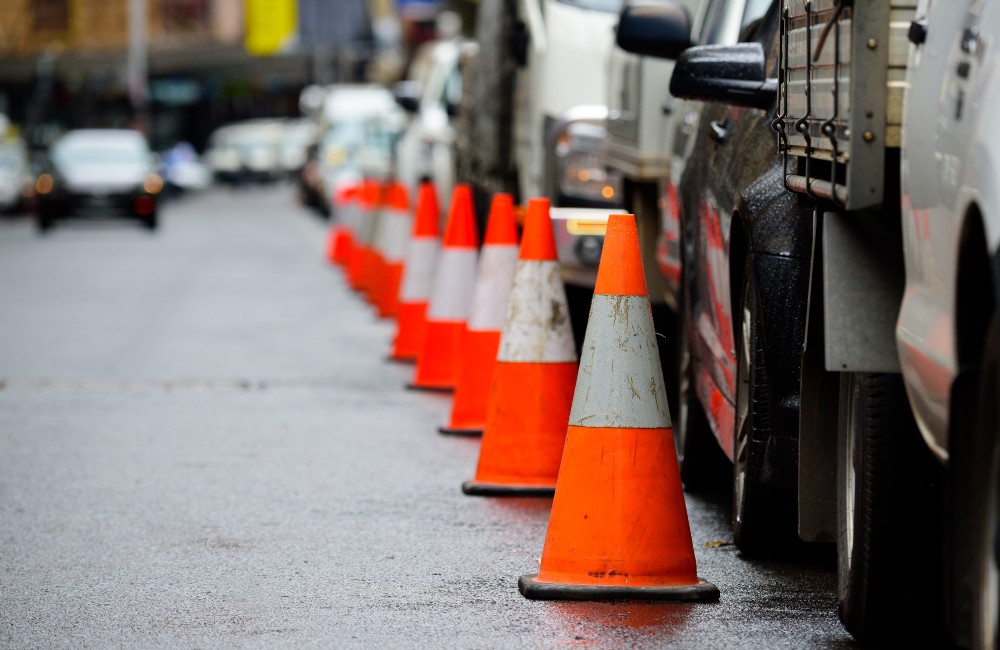 Site Security and Traffic Control (SSTC) can take charge of your construction traffic control services in Sydney and guarantee the safety of your crew and the public. With 25+ years of combined experience, our fully trained and certified traffic controllers are expert planners who can ensure both your team and passers-by can go about their business with minimal inconvenience.
Our in-house planning division will construct a detailed traffic control plan using state-of-the-art technology. Our plans consider your construction schedule, the conditions of the road you're working on and other variables to guarantee we provide the right kind of equipment and measures to set your project up for success.
Through real-time traffic monitoring and incident response coordination, we determine what your circumstances require and provide it.
We also take the stress out of obtaining legal documents and other relevant permits from organisations and governing bodies.
SSTC maintains the highest levels of safety, on top of liaising with government bodies and offering competitive rates. With RMS-accredited traffic controllers, SSTC has the best personnel for the job. They take the hassle of planning and strategising off your shoulders.
If you need traffic control services in Sydney, get a free quote from SSTC.